The world of web design has seen a year packed with changes to the ways designers approach website development and new strategies to improve conversions, boost revenue and raise brand awareness.
In the face of a continuously expanding market and growing competition, businesses have started taking advantage of the wealth of design resources available to almost anyone nowadays and finding new ways to optimize their online presence.
This short article explores two dominant web design tendencies in 2018: engaging content and responsive design. We will discuss the trends and what they mean as well as recommend good practices and strategies to try out on your site.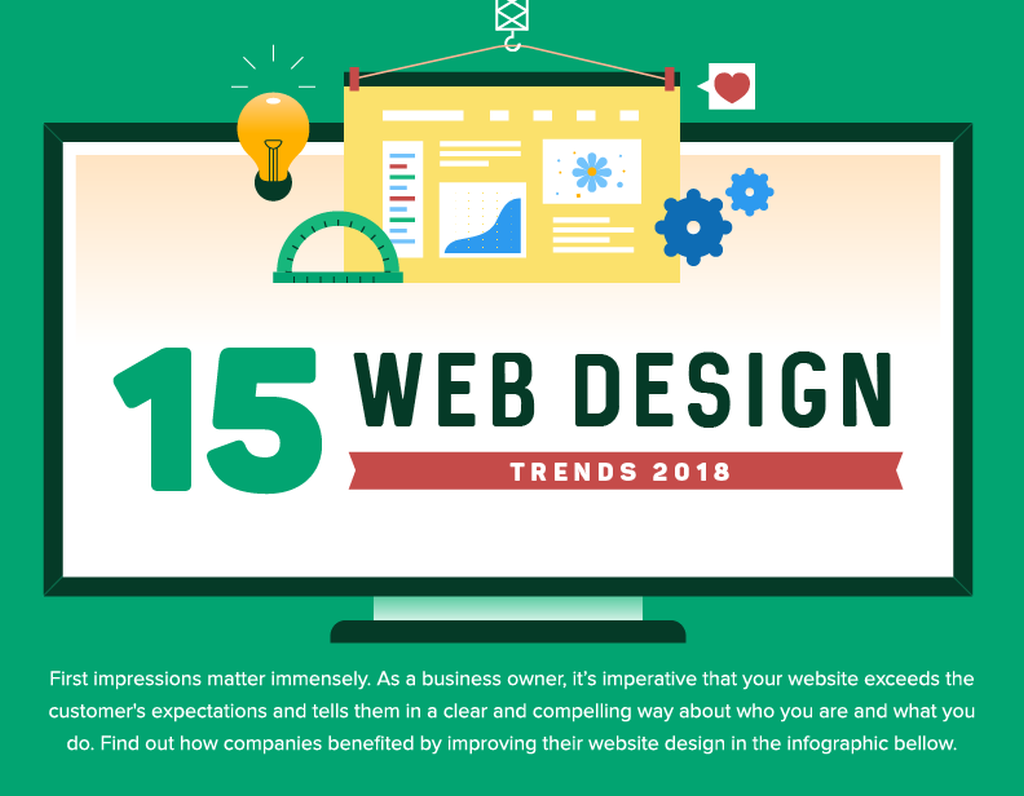 Engaging Content
The trend
Although aesthetics are important, businesses are starting to focus on becoming content producers as well. Companies are coming to realize that their customers wish to engage with the brands they buy from. Content strategies such as weekly videos or blog posts have become a commonly used strategy for brands to convey their brand message and custom content to users of their websites. 82% of consumers will trust a company if they engage with their customized content, so the impacts on revenue are considerable.
How do I do it?
DesignAdvisor recommends that you start by planning a focused and optimized content campaign targeted to your consumer base. A good starting point is an engaging "About Us" page, or a YouTube channel, depending on your available resources. You can create content about how your company started, product reviews and recommendations or even a staff spotlights. If the content is engaging, it will work wonders!
Responsive Design
The trend
Almost 50% of users will react negatively to a website and the company it belongs to if it's not optimized for mobile. As users continue to migrate from desktops to mobile devices, demand for better mobile sites also increase. Companies are adapting to these trends by displaying information in flexible ways to make mobile browsing easier for those who access their sites from phones and tablets.
How do I do it?
A large number of small businesses have not optimized their sites for mobile browsing, which probably means that most of them can profit from following this advice. Start by doing basic optimization, which includes optimizing images, text and other components for mobile viewing. Apart from dealing with basic optimization, you should think of creative aesthetics to improve mobile layouts beyond the bare basics. Above all, don't hide information in your site, as mobile users do not have the time nor the space to navigate a complex site.
Conclusion: The importance of user experience
These two examples of trends showcase an overall tendency towards a heavy focus on user experience. There are many more trends to look out for, such as targeting speed, SEO, and layout improvements. Enhancing these features has helped businesses increase their revenue. For instance, it's estimated that 75% of users make judgements about a site's credibility based on their web design. It's simple: no trust, no money. Thinking in these terms will improve your web design throughout: focus on easy access to information, an engaging aesthetic experience, and don't compromise on speed and optimization.
15 Web Design Trends 2018 (Infographic)

---
15 Web Design Trends 2018 (Infographic)
The importance of establishing and curating a well-designed website in today's internet-dominated global climate is hardly a secret.
Learn more…