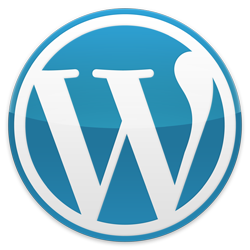 The Ultimate Video Guide to WordPress Help You Churn Out Site after Site almost at Will the Very First Time You View Them…!!! This is an absolute must for any internet marketer to have in their Internet Marketing Library… You NEED This Video Course Today!
Dear Internet Marketer,
It probably comes as no surprise to you if I say that WordPress is fast becoming the platform of choice for most internet marketers.
It probably wouldn't be a stretch to say that most new bloggers, small businesses, entertainment and the like all gravitate to the WordPress platform for their sites. Because of it's ease of use, customization and high integration with several online applications, it is the probably the most supported web site creator on the net.
And although there are other website platforms out there, you'll find it rather difficult to see anyone who supports them as much. WordPress is The Best period. And for internet marketers, it's pretty much the only choice.
So what does that mean for you?
If you know how to use WordPress and I mean really know it, you'll cut down your learning curve for just about everything else in internet marketing. But if you don't know it, you'll be at the mercy of everyone who in this industry. And you really don't want or have to be dependent on anyone for their knowledge of WordPress.
So do you kinda know where I'm going with this? I'm sure you do so let me go ahead and introduce you to…
The Ultimate Video Guide to WORDPRESS
Well if you don't know anything about WordPress, you're pretty much way behind every other internet marketer in the industry. It should go without saying that you should know something about it.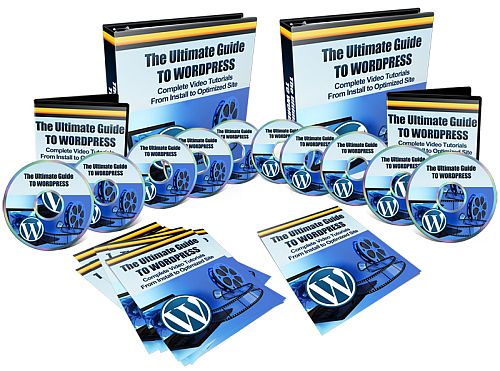 Even with that said, what if you could go beyond just knowing WordPress to actually mastering the platform in its entirety? See, what I didn't mention to this point is that a lot of marketers actually know and are using WordPress. They have sites up and running and everything but… Most often, those same sites are just sitting there wasting internet space. And the reason is, they just don't know how to use the true power of WordPress to effectively create highly optimized sites. However, you have a chance now to have access to perhaps the most comprehensive video training on WordPress to date. Enough Talk…Let me show you exactly what you get with this video training series…
 1. Installing WordPress
How to Get Your Very Own Domain Name Registered
How to Update Your Name Servers to Point to Your Host
How to Add Your New Domain Name to Your Host
How to Install WordPress Using Fantastico (One-Button Easy Install)
How to Install WordPress Using SimpleScripts (One-Button Easy Install)
2. Customizing WordPress
Top Customizable WordPress Themes To Use Set up Your Site Fast (FREE and PREMIUM)
Top Plugins to Use to Optimize Your Site from Day One
How to Use The Editor Function to Modify Your WordPress Site
How to Use Widgets to Enhance the Quality and Usability of Your Site
How to Use the Menu Function to Create a Unique Navigation for Your Visitors (Super Simple and Highly Effective)
3. Configuring WordPress
How to Use Tags to Target Your Content to Potential Visitors
Discover How to Use Categories to Focus Your Visitors to Specific Content
How to Use And Configure Each Part of The Settings Tab (This is HUGE)
4. Updating WordPress
How to Update WordPress When New Versions Become Available
How to Update Plugins to Their Latest Versions
How to Update Your FREE or PREMIUM Themes When New Ones Are Released
How Safegaurd Your Updates To Prevent Any Installation Problems
5. Backing Up Your WordPress Site
How to Safely and Secure Backup The Contents of Your Site
What Tools to Use to Easily and Efficiently Back Up Your Site
The Reasons and Importance of Backing Up Your Site
6. Using WordPress
How to Post and Publish Your Content Quickly and Easily
How to Edit Your Posts to Modify Any Part of Your Original Content
Discover the Easy Steps to Uploading Audios, Videos and Images to Your WordPress Site
How to Add and Use Cool Tricks to Modify All Media You Post to Your Site
How to Change, Configure and Setup Your Own Links Within WordPress
How to Create, Configure and Optimize Your Pages on Your Site
How to Moderate The Comments Function Made On Your Site
How to Create and Modify Additional Users to Your Site
How to Use the Tools Given Within WordPress
Bonus Module Extra WordPress Stuff
How to Get Email for Your Site Using Google-Apps
How to Add Social Media to Send Free Traffic to Your Site AND Syndicate Your Content Over DOZENS of Sites
How to Integrate an Autoresponder to Your Site to Build An Email List
The Ultimate Guide to WordPress MindMap
This Mindmap gives you the blueprint at a major glance to get you from step A to step Z in a snap!
The Ultimate Guide to WordPress Audio
Audios have been stripped from each video so you can listen to the lessons whenever/wherever!
So What Separates This Video Series From The Rest?
As you can clearly see, this is truly a complete training program to anyone marketing with WordPress. Once you've gone through these videos, not only will you be good to go, but you'll also be quite the expert. Yes…people can actually come to you for their WordPress issues. Or if you have a staff or virtual assistants, this is the perfect resource to give them to start putting your sites up fast.
Can you just see the HANDS FREE POSSIBILITIES? Just relax and let our WordPress videos do all the work for you. Each module is simple and concise. No fluff, just really to the point lessons that will get your staff or VA's a full understanding of WordPress. It will also offer SEO strategies throughout the series that no one else is teaching. So yes…you, your staff or your virtual assistants will get the best of both worlds because we take you way beyond just a step-by-step system. We make sure that once your site is up and running, it's fully ready to get that free traffic you want from the search engines. And this is the Major Differencethis video series offers…
Now Here's Some Examples Of How These Videos Can Instantly Help You in Your Online Business
1. For now on, you have an instant resource for whenever you get and need a question answered about WordPress!
2. Send these to your staff whenever they have an issue about how to use or customize your WordPress site…
3. Take a load off and give these videos to your newly hired virtual assistants to build your sites super fast!
4. Use these videos as a training tool to mentor new internet marketing students on the power of using WordPress…
Download
DOWNLOAD – The Ultimate Video Guide to WORDPRESS
—
Original post: The Ultimate Guide to WordPress | Build the Best Websites