If you are thinking about building an eCommerce Store, there is a good chance that you are working within a specific budget and time frame. More importantly, you don't want the fact that you are controlling your overhead costs to come in the way of creating a full featured website that offers a very satisfying shopping experience to your target customers.
Your specific needs, in this case, can be satisfied through the use of one of the many open source platforms that are available on the market.
Developing an eCommerce Store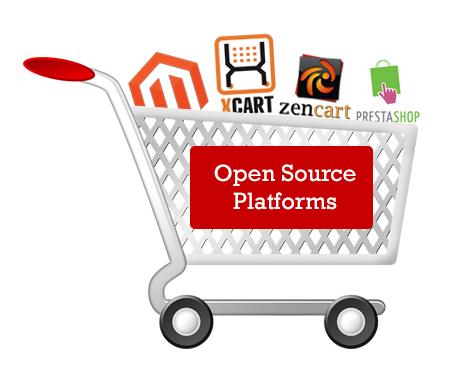 Let's take a closer look at the reasons why you should choose such platforms and also go through certain other associated aspects.
Why an open source eCommerce Solution?
There are plenty of reasons why you must go for one:
Reduces Development Time
You want your eCommerce site to be up and running in double quick time, and this is where the module based development of open source platforms helps reduce the development time.
Perfect for Low Budget – High Performance Projects
If you are working within a strict budget, and want to keep your website development costs to a bare minimum, the cost effective nature of open source platform is perfectly suited for your needs. You don't have to pay for the use of the platform, just for the use of the developer's expertise. This brings down the cost of the project by a long way.
Customization through Extensions and Plugins
Although the level of customization of such web solutions built on open source platforms is not on par with that of proprietary level platforms, you can still customize your site by choosing from the numerous extensions and plugins available. Your choice of the right platform should in part be dependant on the number of plugins, add-ons and extensions available for that particular open source platform.
Programming Knowledge is not a Pre-requisite
The great part about these platforms is that they are fairly easy to use and even easier to learn. You don't need a whole lot of programming knowledge if you want to administer your eCommerce site. Every task with respect to management of your online store to its operations is simplified so much so that you can complete them effortlessly.
The admin control panel in your online store, is very easy to use.
Available Platforms
There are literally an endless number of open source platforms that can be used to develop your eCommerce site. Let's take a look at some of them.
OpenCart: This is yet another feature rich solution offering features like unlimited categories, products and manufacturers; multi language, and currency; product ratings, reviews and many more.
PrestaShop: Everything that you need to operate open and successfully operate a profitable online shop is offered by this platform.
VirtueMart: This is an open source eCommerce shopping solution that needs to be used with Joomla! It's a comprehensive system that allows you to build a full featured shopping cart.
Zen Cart: It's an open source platform that seeks to give maximum importance to merchants and shoppers by offering a huge collection of features for improving the profitability of your site.
Spree: Powered by the Ruby-on-Rails Framework, it is an open source platform you must use, if you are looking to focus on customization and regular upgrades.
Magento: It offers a bouquet of feature rich results oriented solutions for your eCommerce business. Whatever the size, need or budget, there is Magento solution on offer for the same.
Install and Upgrade
Installation and Upgrade of Platforms
If you compare the process of installation and upgrade of open source platforms to that of proprietary platforms, there is a marked difference in terms of complexity. The former are much easier to install and upgrade. But, there are still certain steps that you need to keep in mind.
Installation and Creation of Admin Account: Once you install your chosen platform, you will need to create your admin account; the installation depends on your OS; also the best way to go about it will be to go through the Read Me and Install files available with the platform.
Once you install, you need to go into the admin panel and create your account.
Migration of Old Database
If you already have an old database and need to migrate it to a new system, you need to take into consideration the way, the data has been stored in the old system and the way it can be stored in the new system.
Creating New Product Database
This is one of the tedious tasks of setting up a new eCommerce store, but there is no way around it. But, the good thing is that this isn't as difficult as it seems; data input is easy and convenient in most open source eCommerce platforms.
Organizing Code and Architecture
If you want a system that performs seamlessly, you will want to ensure that the code is well organized and your architecture is logically structured.
Front-End/Back-End Interface
The quality of the interface will be determined by features, plugins, themes and add-ons that you choose for your open source eCommerce sites. Here is just a small cross section of all that you will need to focus on:
Choosing Design Themes
Products and Categories
Sorting by Brands or Manufacturers
Installing plugins (E.g. Meta Robots Tags plugins, sitemap plugins etc.)
Customization of Admin and User Panel
You will need to make your site SEO friendly; this can be done with the addition of Meta Title, h1, H2 etc.
The Safety and Security of the order funnel is paramount
Secure Payment Gateways
Testing and Launch
The most important part of ecommerce site development is using an open source platforms, comes right at the very end – that is testing the site before launch. You not only have to test the control panel, but also ensure that the integration of your business activities has taken place seamlessly.
A site should only be launched upon thorough testing. Otherwise you are taking a huge risk.