WPWebHost – specializes in hosting WordPress-powered websites. With WordPress-optimized server & WordPress-savvy team, you already have all the reasons to host. These guys are great, and I obviously recommend that you check them out if you are looking for some great hosting.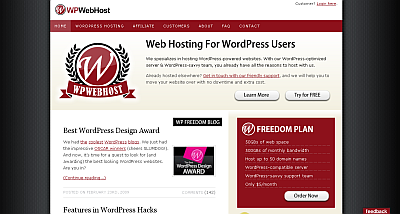 Freedom Plan
Great, you get large amounts of bandwidth per month and can host up to 50 web sites on the same host. The pricing and what you get see below.
50GB of web space
500GB of monthly bandwidth
Host up to 50 domain names
WordPress-compatible server
WordPress-savvy support team
Only $5 a month ($60 a year!)
Control Panel
You can install new WordPress on your site with just a click of your mouse through their Control Panel.

Features
99.5% Uptime
Unlimited Subdomains
Compatible for PHP, MySQL Database, and Perl scripts.
Unlimited MySQL Database
POP3, IMAP & Web-based E-mail Access
Perfect Hosting Envinronment for WordPress 2.0 – 2.7
30% off Coupon Code
To receive 30% off on all hosting plan (and all billing cycles), use the coupon code: PHIREBASE.
Twitter
Reviews
Design Shard Now hosted with WpWebHost
WP Webhost, THE host for your WordPress blog
WPWebhost.com: Web Hosting for WordPress
WP WebHost – A Web Hosting for WordPress Users