With powerful smartphones becoming more affordable and wireless broadband speeds getting faster, the mobile app and design markets are booming. While interface and web design has always had to deal with varying display sizes, resolutions or other concerns, mobile devices feature much smaller screens, different inputs and varying capabilities. This had lead to major changes in design trends and created a new market for designers looking to promote their skills. While this is most apparent in mobile app design, the impacts spread into other areas of web and interface design as well.
The Advancements in Mobile App Design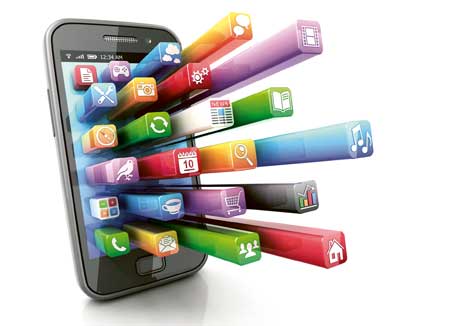 Making the Most of a Little Space
While some mobile devices feature screens as large as 7-inches diagonal, the majority of mobile phones are just 3 to 4-inches. This is a major change from typical 15 to 23-inch displays found on the average desktop or laptop computer. This is currently one of the biggest influences on design trends. Where the focus was once on creating elaborate details, complex interactive elements and rich multimedia designs, it is now about simplicity and ease of access. In many cases, this means eliminating much of the minute details about an interface design in favor of large buttons, multiple panes and simple drop down menus.
Reconsidering the User Experience
A shift toward mobile devices has also made it essential to develop simple yet effective ways to deal with navigating multiple pages, as even a short paragraph is unlikely to display on a single screen. This changes the overall user experience of many traditional interfaces and design structures. From pop-up menus and elements to easy pagination and separation of information and themes, interfaces and designs must now be much more concise and refined than their predecessors. The biggest part of this challenge lies in creating designs that are powerful and simple while incorporating branding at the same time.
Getting the Attention of the Mobile Market
Animations, embedded video and interactive elements were once the cornerstones of engaging web design. With differences between mobile platforms and computers, this is becoming less common. Major elements in engagement and interaction now include color blocking, phone integration and typesets. Simple yet bold color schemes and clean, easy to read fonts are a large part of this change. High-contrast color schemes ensure that no details are lost and help the user to find important aspects of the interface. Contact integration, social media integration and other functions can also now be tied into mobile APIs for enhanced functionality and interaction.
Shifting from Mice to Touch Screens
The rise of mobile devices has created a change in the way many users physically interact with designs and interfaces. What was one performed with a mouse and keyboard is now done using touch screens. Computer operating systems, including Microsoft's Windows 8, are set to include touch-based interfaces in the future as well. With gestures, such as tap-and-hold and swiping, these interfaces offer many of the functions of the traditional mouse and keyboard. However, one important difference is precision. With a mouse, it is easy to click on elements just a few pixels wide. While touch screens have come a long way from their initial designs, most users are interacting with your designs using their finger. This makes it essential to include large buttons, input fields, padding and other elements to prevent accidental taps, increase accuracy and reduce frustration.
Coordinating Mobile and Full-Scale Designs
All of these changes are often made to only one version of a website or application. From basic layouts to color choices and feature sets, this influences modern web design drastically. By creating two distinct development paths for a single product, company or brand, web developers must now decide which functionality is best placed on the mobile sites and applications and which elements to reserve on the main website. Care must be taken to keep both interfaces similar enough to provide familiarity and ease of use while still providing distinct benefits to both interfaces.