Well, you have your wordpress site, it's time to make some SEO tweaks, we can recommend you our SEO strategies with some great plugins that to do this easily. We have made some research of instructions videos, so we added them too. If you follow this tips properly you will find that you can make your site easy searchable from Google, Bing, ASK, Yahoo engines and that's what we hunting here. If you have any suggestions, feel free to share them in the comments area.
All in One SEO Pack
Optimizes your WordPress blog for Search Engines (Search Engine Optimization).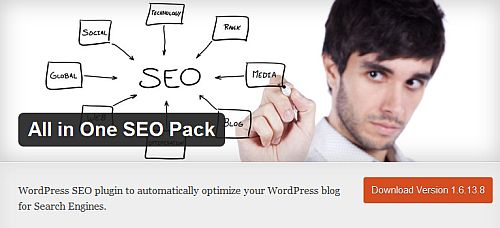 WordPress › All in One SEO Pack « WordPress Plugins
Some features:
Google Analytics support
Support for Custom Post Types
Advanced Canonical URLs
Fine tune Page Navigational Links
Built-in API so other plugins/themes can access and extend functionality
ONLY plugin to provide SEO Integration for WP e-Commerce sites
Nonce Security
Support for CMS-style WordPress installations
Automatically optimizes your titles for search engines
Generates META tags automatically
Avoids the typical duplicate content found on WordPress blogs
For beginners, you don't even have to look at the options, it works out-of-the-box. Just install.
For advanced users, you can fine-tune everything
You can override any title and set any META description and any META keywords you want.
Backward-Compatibility with many other plugins, like Auto Meta, Ultimate Tag Warrior and others.
Video:
Robots Meta
There's no easy way to add meta robots tags to WordPress pages, unless of course, when you install this plugin.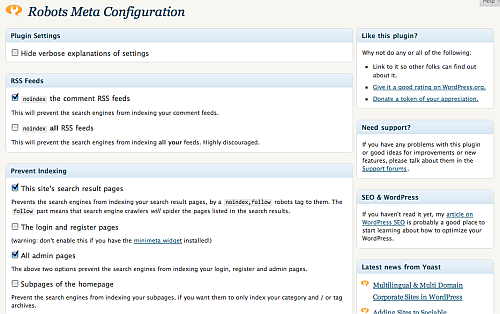 WordPress › Robots Meta « WordPress Plugins
Some features:
Prevent indexing of your search result pages, while still allowing the search engines to follow the links on them, by adding noindex,follow robots meta tags.
Disallow indexing of subpages to your homepage, category pages, author pages and tag pages, to prevent duplicate content.
Prevent indexing of your login, register and admin pages by adding noindex robots meta tags.
Add noodp an noydir meta robots tags, allowing you to opt out of DMOZ and Yahoo! Directory descriptions.
Prevent Yahoo! and Google from indexing your feeds by adding a meta tag to their head-section.
Prevent indexing of just your comment feeds.
Disable author and date-based archives.
Prevent attachment pages from ranking in the search results over your articles.
Enforce a trailing slash on archives.
Edit your .htaccess and your robots.txt from within WordPress.
Assign robots meta tags to individual posts & pages.
Verify your site with Google Webmaster Tools, Yahoo! Site Explorer and Bing Webmaster Tools.
Add noarchive tags to your blog (Thanks to Henryk Gerlach).
Video:
Google XML Sitemaps
This plugin will generate a special XML sitemap which will help search engines like Google, Bing, Yahoo and Ask.com to better index your blog. With such a sitemap, it's much easier for the crawlers to see the complete structure of your site and retrieve it more efficiently.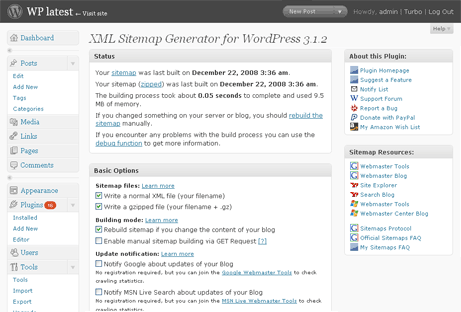 WordPress › Google XML Sitemaps « WordPress Plugins
The plugin supports all kinds of WordPress generated pages as well as custom URLs. Additionally it notifies all major search engines every time you create a post about the new content.
Video: