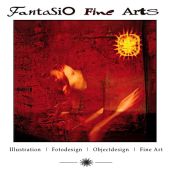 Fantasio Fine Arts
delivers quality work in the following ranges: Illusion-paintings, Fantastic Illustrations, Custom – object – design, Graphic – design, CD – Cover Art, Book Illustration, Advertising, Photoretouching, Photomanipulation, Dia & Scan – Reproductions, Photography – Portrait Nude Fashion, Tabletop Architecture, Fine Art Prints, Custompainting, Sculptures, 3D – Design.
Oliver Wetter
is the mind and exective behind Ars Fantasio which emerged for one purpose: to turn stories into outstanding i
magery. Specialized in book cover art, illustration for editorial and advertising. Creating worlds out of briefings since 2009.