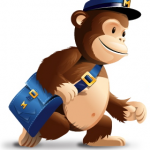 We still learning to keep up our readers in comfort way, so we start with our E-mail Newsletters with MailChimp. You can now Subscribe for Free!!! You will get great tips, tricks, and strategies a few times a month. Hope you get some value out of it!!! It's where ALL of our best posts go!!!

What is Newsletters with MailChimp?
MailChimp makes it easy to design exceptional email campaigns, share them on social networks, integrate with web services you already use, manage subscribers, and track your results. You'll love mixing and matching MailChimp's templates, features, and integrations to suit your needs – think of it as your own personal publishing platform.
Features:
It's free. – Store up to 2,000 subscribers & send up to 12,000 emails per month.
Custom Forms – MailChimp allows you to personalize everything your subscribers see, including signup forms and confirmation emails.
Facebook Integration – MailChimp's Facebook features help you make connections, add fans, and get the word out about your newsletter.
Email Template Gallery – MailChimp provides hundreds of customizable email templates for everyone from beginners to seasoned pros.
Template Language – Use MailChimp's template language to make custom templates that are easily editable by you or your clients.
RSS to Email – MailChimp's RSS‑to‑email campaigns automatically go out when you update your blog or another RSS feed
Social Sharing – Increase the impact of your message when you combine your email newsletters with social networking.
Reports – MailChimp's free reports analyze clicks, opens, social activity, and so much more. You can even learn about individual subscribers.
MailChimp Mobile – View reports, add new subscribers, and manage your lists with MailChimp's iPhone and Android apps.
Google Analytics – Your email campaigns could be generating serious revenue. Our Google Analytics integration shows you instant ROI results.
WordPress + MailChimp
MailChimp has a great WordPress plugin that combines the power of WordPress, MailChimp, and Google Analytics!
Conclusion
Really perfect marketing tool, easy to use to build our list. If you are a complete beginner to email marketing and not pretty sure of what to start Newsletters with MailChimp is the best option.
Related articles
What is Mailchimp, part I: Email newsletters and design considerations| Invantory
MailChimp review, part II: Templates and testing
MailChimp excellent enewsletter partner for small business
Email Marketing with MailChimp: the Good and the Bad