Email marketing tools is used by hundreds and thousands of businesses around the world, and it's easy to see why. Compared to traditional direct mail marketing, email marketing can be a cost effective option for those looking to regularly inform their target audience about new blog posts, products, services, offers or even events.
Obviously, there are a lot of things to think about when it comes to email marketing however. There's the task of defining who your target audience will be, building a list, managing that list and of course, actively contacting that list with relevant news/products etc on a regular basis in order to keep them engaged.
In order to do all this, you're going to need to use some kind of email marketing tool (of which there are many)
iContact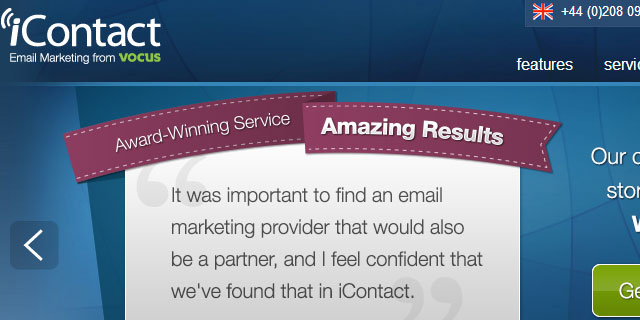 Source: iContact
One of the most well known email marketing tools is iContact. The whole idea behind the tool is that it allows you to manage everything whilst also being easy to use. According to the iContact website, it doesn't matter whether you're a beginner with absolutely no HTML or email marketing experience, or a HTML guru, the tool is suited for everyone.
iContact is extremely easy to use and really does manage everything; you can build a list, send out regular newsletters and manage everything you could need to. It's also a pretty cheap option with prices starting at just $14 per month. Sure, you can only manage up to 500 subscribers at that price but you can upgrade at any point up to the 15,000 subscriber mark. If you have more subscribers than this, you can enquire with iContact for a custom quote.
Mailchimp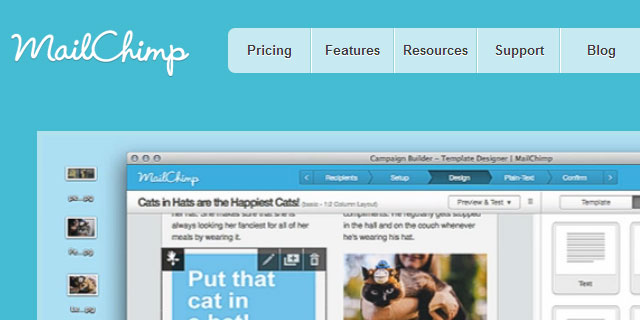 Source: Mailchimp
Mailchimp is quite a newcomer to the world of email marketing but they've certainly made an impact. Mailchimp, much like iContact, allows you to manage the whole email marketing process through their easy to use administration area. Their services are aimed at those with little or no knowledge of email marketing, but they are also suited to those looking to get more actively involved with the HTML side of things too.
I personally use Mailchimp and it's extremely easy to use. It manages all the campaigns for you without any extra effort and will tell you your open rates, read rates and tonnes more information.
Perhaps the best thing about Mailchimp is that it's completely free of charge to use so long as you have less than 2,000 subscribers. You can also send up to 12,000 emails per month for free and if you want to upgrade, prices start from just $10.
Aweber
Source: Aweber
Aweber is perhaps the most well known email marketing platform out there and it is used by hundreds and thousands of internet marketers around the world. One of the most notable features about Aweber is it's auto responder follow up feature. Yes, Mailchimp and other email marketing tools also have this but Aweber integrates into a lot of different applications nicely, and this feature can be used to automate the whole process.
Aweber is packed with email templates and web forms so you can be sure that you'll have everything you need to get started in the world of email marketing. You can try Aweber out for just $1 for the first month ($19 per month thereafter). There's no contract and if you aren't happy within the first 30 days, you can get your money back (although it's only a dollar).
Constant Contact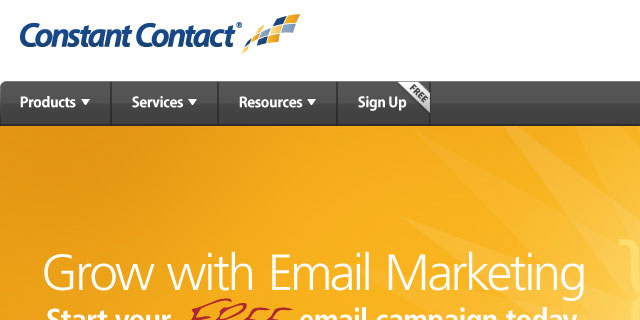 Source: Constant Contact
Another big player in the world of email marketing is constant contact. Constant contact, like most other email marketing tools, allows you to manage the whole process but it also has some cool, unique features. For example, you can create deals and market them to your email list, thus allowing you to generate even more revenue from your email list without any extra effort.
Much like Mailchimp, you can also try Constant Contact completely free of charge. You don't have to enter credit card details and there's no obligation to purchase any monthly plans. There's a tonne of templates and campaigns will show you who interacts with your emails on social media platforms too (a really cool feature).
It's a service aimed at small businesses so prices are affordable and start at just $15 per month.
GetResponse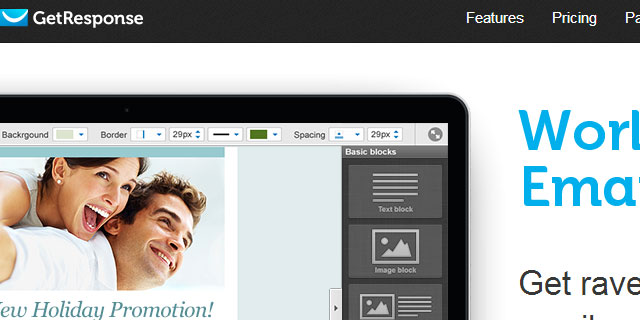 Source: GetResponse
GetResponse is probably one of the most versatile and well designed email marketing options on this list. It's absolutely packed with features including a landing page creator (no HTML knowledge required), social sharing statistics, auto responders, form build and much more. It also allows you to preview how your message will look when it lands in the inbox of people using various different devices.
It's completely free of charge to use and I personally recommended giving it a shot. The free trial is for 30 days and prices start at $15 per month after that. For $15, you will be able to manage 1,000 subscribers and you can also upgrade for a small cost if needed.
Conclusion
Truthfully, all of these email marketing tools are absolutely brilliant. I personally use Mailchimp but that's simply because you don't have to pay a penny to use it up to 2,000 subscribers, making it great for those just starting a website.
Email marketing is a key tactic for any business and given the fact that it's so cheap to implement using the tools above, it's something that no business should miss out on.
Related:
7 Steps To An Effective Email Marketing Campaign
Read more about Top Bulk Email Verification Services by AccuWebHosting.Com