Pixelation Inspired Art – Do you miss the pixellated art forms of yesteryear? Well, they're making a massive comeback. You can buy old school Pac Man and Super Mario Bros pixel art as wall stickers for kids (and nostalgic adults!) bedrooms. Many artists are using the boxy medium to create modern masterpieces, like the ones we've found below.
Geek Birthday
This was created for someone's birthday and has oodles of geeky references in. Can you spot them all?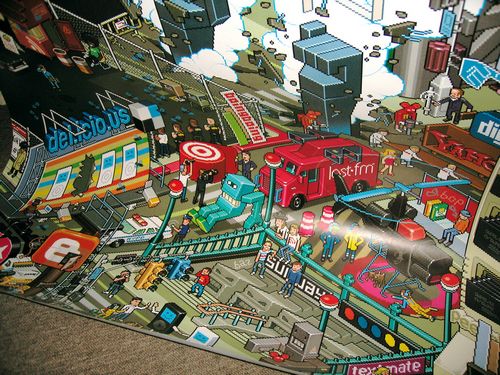 credit: tripu
Bead Sprites
Using a mixture of coloured beads, this 2D model of Ironman could also make a nice necklace if you accidentally knocked it over.
credit: RedHerring1Up
Klimt's The Kiss
Classic art turned into pixels. Klimt's The Kiss doesn't really lose any of its charm, though a little of its sparkle.
credit: joojaebum
Virus
Probably the most literal representation of a computer virus, or a pixelized snot, perhaps.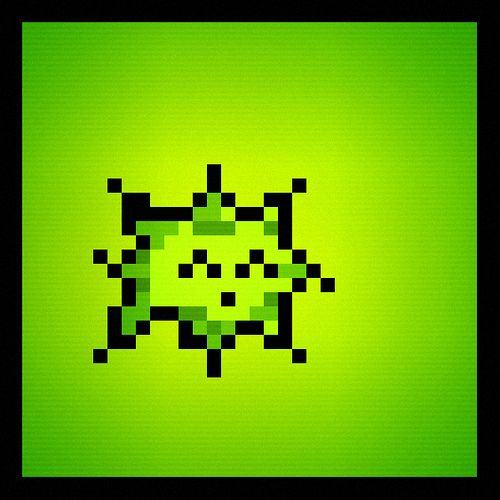 credit: ssoosay
Leonardo
This incredibly inventive pixel art is best viewed from the top of the tower at Crossland, Oyabe, Japan. Painted on the pavement below, it looks great if you squint.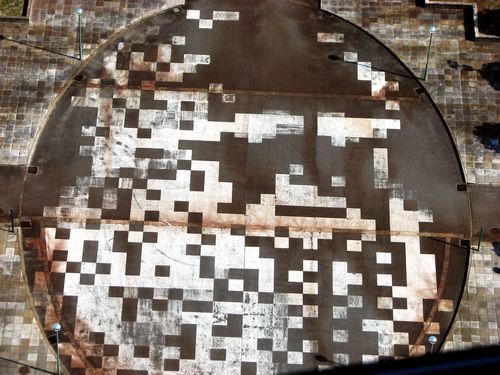 credit: Mullenkedheim
Cezanne
If pixels were around in Cezanne's time he'd probably have experimented with those as well as his brushstrokes, so this isn't too sacrilegious.
credit: joojaebum
Mural
Clever use of existing materials, this enormous caterpillar (?) is simply painted on the tiles to make this pixel mural.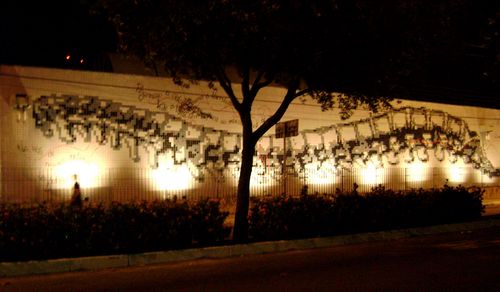 credit: ACIDUM grupo
There's some pixels on my fence
Whether it was the intention to create pixel art here is questionable, but it's hard to not make the association. Minimal, yet effective.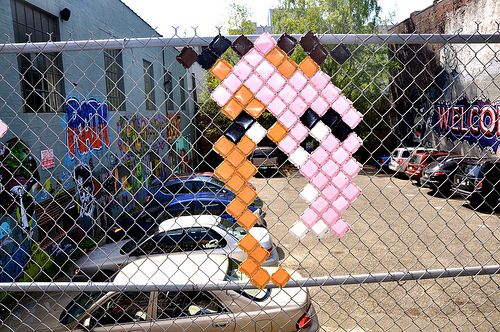 credit: rasdourian
Abstract Flowers
These would make a great pattern for materials. Pixel art for curtains and other home furnishings – it's the future!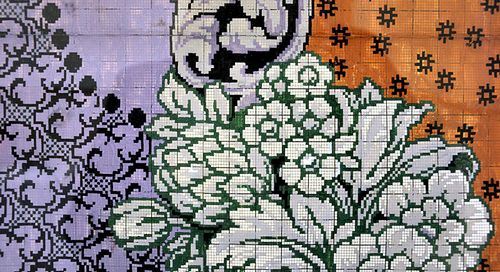 credit: Wikipedia
Fashionable Owl
Owls are so hot right now in interior design and jewellery. So why not get some artwork to go with your cushions and necklaces?
credit: iloveui
Simplicity Rocks
Sometimes the beauty of pixel art is in its simplicity. These few pixels make a cat. This would look great on a huge canvas on a blank wall.
credit: 260986
Hilarious Wall Art
What looks like a running stripy gherkin, makes quite a quirky talking piece in the home. Especially if you're into cucumbers at all.
credit: RedHerring1Up
Billboard
Found in Hoxton, it's unclear if this is an actual advertisement or perhaps it's just some artist displaying gorgeous imagery on a huge public canvas.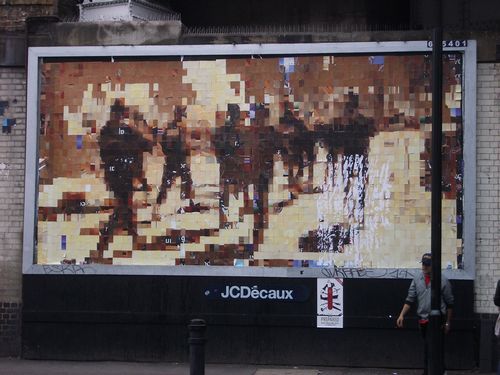 credit: bixentro
Anatomy
Even video game characters have them!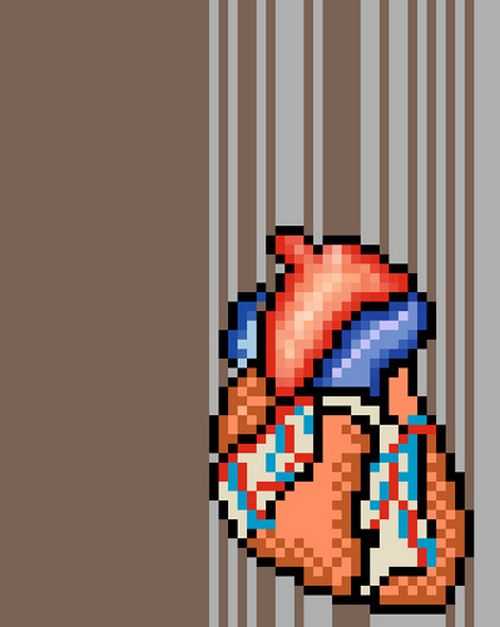 credit: 260986
Self Portrait
The beauty of pixel art is that its minimal simplicity allows you to focus on those distinguishing features. In this case; the jaw!
credit: iloveui
Pixel Fly
The drop shadow on this Russian artist's rendition of a fly in pixels makes the thing come to life! Despite being a bit boxy, it looks so real.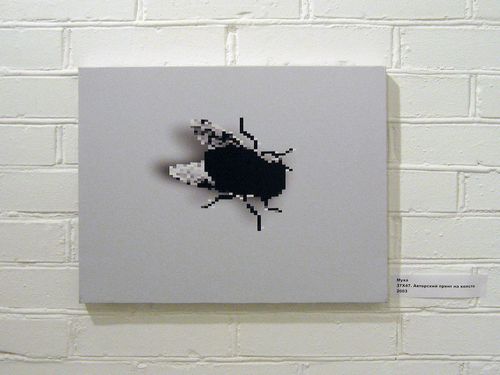 credit: Yuriy Babich
Armoured Train
Again from Russia (with love) is this very abstract armoured train, which evokes memories of impressionist art.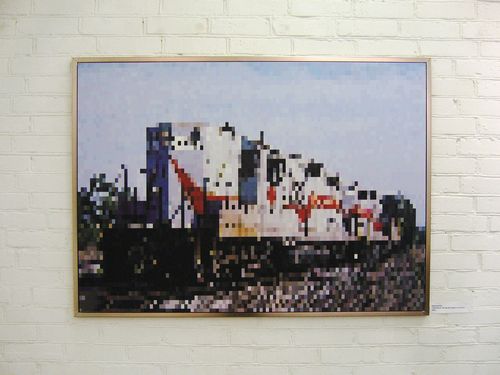 credit: Yuriy Babich
Cross-Stitch Pixel Art
This clever person has created pixel art in cross-stitch. A real meeting of creative media, contemporary meets traditional.
credit: Sailor Coruscant
Worms
Another fine example of popular video games memes making an appearance in the real world. This time, from the classic Worms series.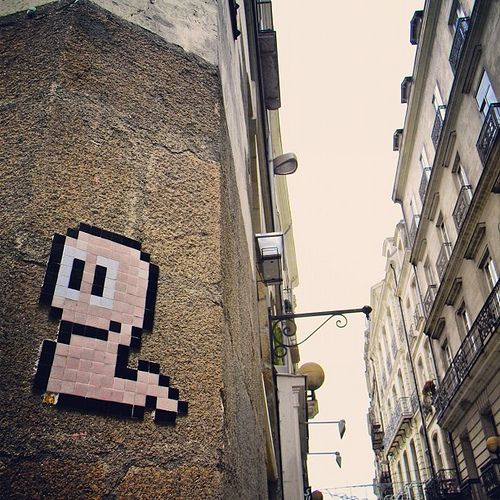 credit: E. Aviles
Space Invaders
Ultimate geekdom in the real world. A space invader caught in the streets of San Diego.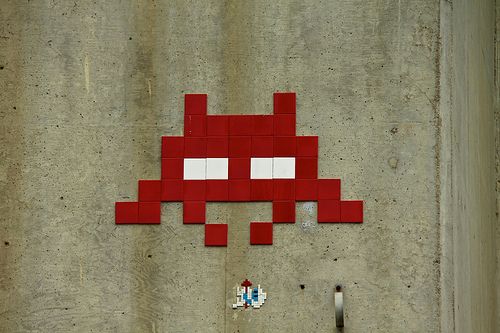 credit: Yinghai
Guerilla Plumbing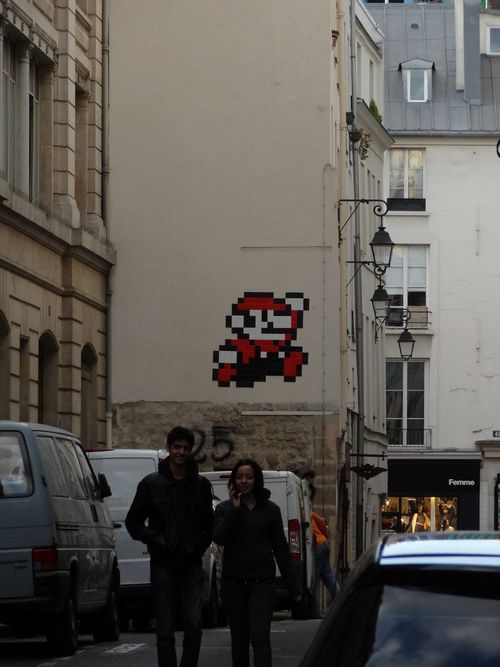 credit: sirexkat
Super Mario goes to the streets in this Banksy style decal on a wall in Paris. Bringing amusement to people just going about their day.