There has been a remarkable growth in the online commerce industry. We can also see an increase in the eCommerce platforms that are available to us. With so many platforms, it becomes difficult to choose the right one.
To start a business in the eCommerce field today will require you to have ample of resources, sufficient time and handsome money and of course, manpower. With several platforms offering diverse functionalities, it becomes necessary that we choose the best one. Choosing one with simple functionality is a convenient option; however, if you have plans of expanding your business and need more customization, Magento would be the right choice. Well, you cannot get money or manpower from any of these tutorials. But yes, you can definitely get appropriate guidance to save costs on creating a great online store.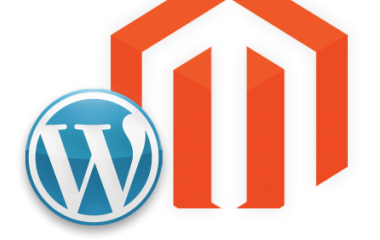 Magento and WordPress are booming and people are trying to compare the functionalities of both, so as to choose the one that is the best. However, both have individual functionalities and are used in different situations. If you are planning to sell products through your website, it is recommended that you consider Magento. If your aim is just to post content, WordPress is the best option for you. The WordPress eCommerce plugin provides comprehensive solutions to those who need to manage eCommerce websites. When you usually have more products to sell, you need a platform with better functionalities and thus switching to Magento is highly recommended.
Magento vs WordPress: What to Choose for an eCommerce Website?
To give you a clear idea, this article will first talk about how Magento and WordPress are similar, moving to the differences in their functionalities and later to bests of Magento and WordPress.
How are Magento and WordPress Similar?
Both Magento and WP eCommerce are open source platforms used in the online commerce industry.
These content management systems are free of cost and have independent functionalities.
They also have the capability of incorporating their functionality with blogging.
Both these platforms allow you to add products easily.
Moreover, you can find a variety of themes and designs. This allows you to customize your website and give a personal touch.
Functionalities of Magento
Magento is an eCommerce platform which offers functions for three types of online stores – Small size stores, medium and large ones.
The best thing about this platform is that it has ample of promotional and marketing tools, which allow building a system in a creative and user-friendly way.
It is highly flexible and light-weighted. That is why it has become exceptionally popular and developers consider it to be SEO friendly.
As we know that Magento is an eCommerce CMS, it offers custom tailored business structures like customized shipping methods and dynamic pricing functions.
The most important thing required in eCommerce is security. This is exactly what Magento provides.
Functionalities of WP eCommerce
You can easily incorporate the WP eCommerce plugin into your already existing WordPress theme.
It has ample of excellent features embedded to make user experience enhanced.
You get tons of plugins to choose from. This means you have a website that is built according to your personal preferences.
It is highly customizable. That means you can easily modify the CSS, HTML and PHP codes without any interferences.
This platform gives you the largest list of payment and shipping options, which Magento cannot give. The most popular payment options are PayPal, Payment Express and many other secured options.
Cream of the Crop: Magento vs WP eCommerce
Usually, Magento and WP eCommerce have quite a lot of similar things when talking about the design aspect. There have been several websites which support these eCommerce platforms and many website owners rely upon them to create a great eCommerce website. There are ample of designs available for both the platforms which help in personalizing your website. However, in spite of all this, WordPress still manages to take benefit from a rather larger community, only because WP eCommerce is an extension of WordPress. The designers and developers community find this of great help, especially when there is need for customizing a website.
Conclusion
As we have seen above that these eCommerce platforms have strong individual functionalities and powerful structures, choosing one of the two will purely depend on the personal taste of the website owner. However, it is necessary to determine the goals and highlight the key features of your website before choosing any one.