Developing ecommerce online store is not a tough task, all essential tools are available online. We just have to find an appropriate one. Among all features, Plugins play an important role to sell products/services online.
Effective E-Commerce WordPress Plugins
No doubt, there are numerous ways to set up online store and sell products, but E-commerce development offers excellent result with WordPress blog. As we are decorating our house with some gorgeous accessories, just like that we have to add some plugins to make blog more fruitful. So through this blog, we are going to list out some of the excellent plug-ins that enhances functionality of your blog and give your better business.
Jigoshop
Download Plugin here (Free)
Jigoshop is mostly advisable by the E-commerce developers as it equipped with numerous extensions and themes, available for free download. This e-commerce plugin comes with numerous features like inventory tracking, control over tax and shipping charges, order management, discount codes and many more. Additionally, some amazing functionality that you would surely love is marketing enhancements, different payment gateways, etc. To give professional-look to your website while E-commerce development, it would be recommended to use this plug-in for more enhanced look.
Features of Jigoshop:
Available with Skeleton framework that creates adaptive layouts
Widget-ready
Create Virtual Products, grouped products and add external products
Product options available (Product sizes: S, M, L)
Shopp – e-commerce plugin for WordPress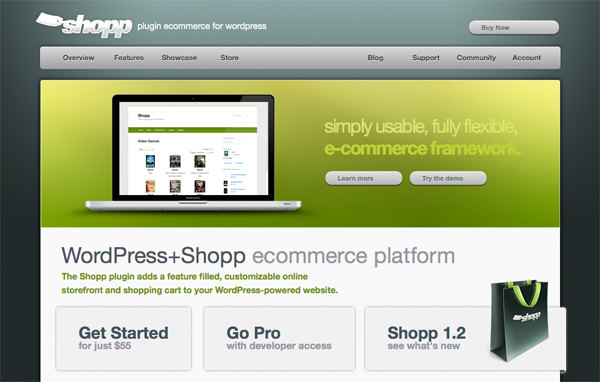 Download Plugin here (from $55)
Shopp is well-appreciated by many online store-owners as this e-cart is available for free along with numerous features. This easy-to-use plugin easily adds and reviews products. The upside of this plug-in is you can easily customize it and change the entire look to make more awesome.
Features of Shopp:
Compatible with WP Affiliate for affiliates
Upload downloadable products
Various shipping options, including by weight
Merchant gateways: Authorize.net, Paypal, Payson, eProcessingNetwork, Webtopay, iDEAL and Cash/Cheque!
Google Based Data creation and many more!!
Cart66 Lite – WordPress Ecommerce

Download Plugin here (Free) / Pro (from $89)
Sell digital products and/or physical products with Cart66. The easiest to use WordPress ecommerce shopping cart plugin.
Features of Cart66 Lite:
Process credit cards securely using your payment gateway with Mijireh
Sell digital products with Amazon S3 integration
Sell physical products, Sell services
Manage orders, Promotions
Tax by state (United States and Canada), zip code, or all orders
Multiple shipping options
Custom fields for products
Product variations that can optionally change the price of the product
Place products on any page or post
Sell internationally, Set your currency
Customizable email receipts, Affiliate platform integration
WooCommerce – excelling eCommerce

Download Plugin here (Free)
WooCommerce is one of the powerful and popular eCommerce plugins that offers enterprise-level quality and features. The best vantage of using WooCommerce is you can easily purchase themes from WooCommerce. Even, you can find various third-party themes that easily integrate with WooCommerce. It includes some of the excellent features like Cheque, Cash on Delivery, PayPal, Mijireh Checkout, BACS, etc.
Features of WooCommerce:
Numerous Payment Gateways & payment methods
Shipping & Tax settings
Available reporting on sales, customers and stock
View made online order
Add Various coupons, deals, etc.
WP e-Commerce

Download Plugin here (Free) / Pro (from $47.00)
WP e-Commerce is an excellent plug-in that should be downloaded over 2 million times. Available for free, this plug-in comes with numerous add-ons and upgrades for purchase. WP e-Commerce plug-in is very easy-to-install and compatible with standards compliant WordPress theme. It is 100% Search Engine Friendly that possess Meta information for all your uploaded products.
Features of WP e-Commerce:
Compatible with other Plugins
Works out-of-the-box with WordPress MU
One-Page Checkout or Stepped Checkout, whichever you prefer
Gold Cart & Grid Module for adding more options and functionality to your store
There are loads of Ecommerce Plugins available online, but the thing is how you are picking the proper E-commerce solutions for your online store. Remember, one can get appropriate outcomes only if he/she is researching by putting all its efforts.
Related:
The Best Ecommerce Plugins For Supercharging Your WordPress Shop